Sin Sisamuth – The King of Khmer Music
Written by iHeartKhmer, November 10, 2022
Sin Sisamuth was considered the "King of Khmer Music" back in the 1950's through 1970's. Sin Sisamuth was most popular for combining the Khmer traditional music with rhythm, blues, and rock and roll. This made the traditional music more modern, but still traditionally enough for the Khmer culture.
His rise to fame
Sin Sisamuth was born in 1933 and the youngest of four siblings. His father tragically died of disease while Sisamuth was a young boy. Around the age of 6, Sisamuth started to take interest in the guitar. At a very young age he became popular for his overall musical and lyrical talent. In 1951 Sisamuth moved to Phnom Penh to begin medical school. While he was in school, he managed to teach himself how to write and sing songs. Sisamuth first public performance was at the age of 18 and was at an elder Khmer statesman's wedding. In 1953 he became a regular singer on the national radio, while still studying in medical school.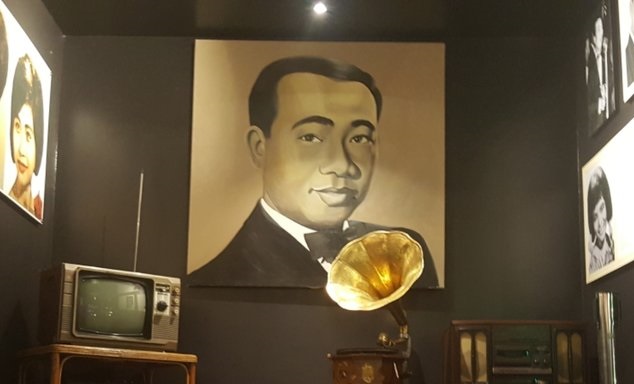 His fame
Sisamuth composed his work on a mandolin. His lyrics were always of a sentimental nature as a reflection upon desires, heart breaks, and the pleasure of romance. He truly had a natural ability for composing music, but at the same time he worked extremely hard. It is said that he used three different dictionaries when writing his lyrics. He used a combination of the Khmer, Sanskrit, and Pali languages in his songs.
Along with the writing talent, Sisamuth had the perfect soothing voice for the lyrics he wrote. He wrote and sang many ballads, rock numbers, and Latin-jazz songs. The earliest songs he became popular for were Oudom Duong Chett, Prek Eng Oss Sangkhim, and Chau Dork. In 1963 Sisamuth became even more popular with his song Champa Batdambang. Sisamuth was able to keep his popularity by re-inventing himself in new ways. He was able to make his music appealing to multiple generations.
In the 1970's Sisamuth became too popular for his own good. He could no longer keep up with the demands of his listeners. He had to end up using other writers and musicians lyrics to keep up with his work.
The obliteration of Khmer music
As you can see the Cambodian music is an extremely influential part of the Khmer culture. The Khmer people worship through their music, and their music is almost everything to them. The Khmer culture is very passionate about the preservation of their traditional music. Unfortunately, in the 1970's this came back to haunt them. The Khmer Rouge ruled Cambodia from 1970-1979. While the Khmer Rouge ruled they attempted to completely obliterate the Khmer culture, including their music. In an attempt to abolish the Khmer music, Khmer Rouge went as far as to kill musicians, which sadly included Sin Sisamuth.
Before Sin Sisamuth's death he tried to do some good for the Khmer people suffering under the Khmer Rouge's rule. He started singing propaganda songs. Then in 1971 Sisamuth appeared in military fatigues while performing numerous pro-republican songs; the most popular song being Mae Owy Ao Yoann.
The after death of Sisamuth
Legends were made about Sisamuth's death. It is said that Sisamuth was to be executed, but before his execution he asked to be allowed to perform one song. His hope was that the song would move them, and they would not kill him. The cold-hearted communists were not moved and executed him after his performance.
His influence on the Khmer music was tremendous. So tremendous, that his name is used as a very common household name in Cambodia. Also, his only surviving son is now a singer on the Cambodian Radio, but he has said himself that he cannot compare to his father.
While some of Sisamuth's works have been recovered after Khmer Rouge's rule, not all of it has been. It is feared that all of his earlier works have been lost forever. Some of his hits though have been brought back to life by a Khmer-American rock bank, Dengue Fever, based in Los Angeles.